As a freelance artist, I use a variety of musical instruments. Started playing and taking lessons on the Bb cornet/ trumpet and piano when I was five. For some years I played only symphonic music. My acoustic musical expressions changed when Miles Davis electronic period started on 70's. Then I began a period at The Main Dramatic Theater in Goteborg as a musician, composer and conductor. During this time, I also played often in the U.S. The hippest music stores were on Manhattan, New York and in 1976 I had my first gig with my new electronic setup; Barcus Berry mic, drilled in the trumpet mouthpiece, a "CRY BABY wa-wa", MXR Chorus / Phaser and Plexicon tape echo machine and Fender Rhodes electric piano with lots distortion, wa-wa and so on.
Then came the 80s with a huge development of electronic musical instruments and effects. I used the same FX as guitarists. I've always been curious and exploring the new features in music industry on keyboards. To name a few synthesizers, Moog, PPG, Yamaha DX7, etc.
Since the 80's, I have been using almost exclusively FX software. Through various sequence programs (Steinberg's Nuendo / Cubase, Digital Performer and the last 10 years almost exclusively Abelton LIVE).For trumpet, and a lot of other acustic sourses I use a wireless Danish DPA cond mic (and a Rundberger Electrostatic mic) to my sound card FocusRite Clarett 8pre; Thunderbolt for my MacBook Pro.
I mostly use Abelton's built-in effects, with even library from: SpectraSonics, OhmBoys, Zebra, Lexicon and some others.
I use midi control units from AKAI, Roland and Keth McMillan's SoftStep2 foot pedal. In addition to various keyboards, I use a modified MDT (MorrisDigitalTrumpet) MIDi wind controller.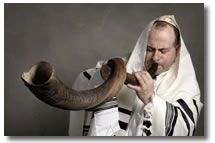 I grew up in the European classical music tradition but I play a lot of music from other cultural traditions. The Jewish Shofar (ram's horn) is still used in the Synagogues. ( on Rosh Hashana and Yom Kippor – Jewish New Year and Day of Atonement )
My regular trumpets: I mostly practice and play this C trumpet. Bach C Large Bore, double-lead pipe, Herseth /Adelstein pipe, Tuning bell, I use a 30-year-old bell from Bb King and Bach bells 229 / 239 for different sounds. A play on Bach mouthpiece 10 1/2 DW, with a booster and also valve booster for a darker sound. Bach C trumpet (old one) Large Bore, 229 bell, double-lead pipe, Herseth / Regulare.  The mouthpiece-booster makes the sound a bit more centered with a stronger core. I use mouthpiece booster on almost any trumpets.
The remaining horns:
Yamaha piccolo trumpet A / Bb – A wonderful instrument, I have had for 25 years. Cousenon Monipol flygelhorn – Had it for 35 years. Warmer and more core to the sound than the larger American wing of the horns. In perfect pitch. A Zenith altohorn in Eb.
A nice F horn aroundSweden's Army ordered this around 1900 – a nice Heckelinstrument from Germany.
Meine Lauber Clarino trumpet. Great for Baroque Improvisations. Rune Selén is Sweden's mostly bark horns builders. Then about ten years, it is Jan Norkvist Sweden which is the main bark horn builder. He has developed instruments and also customized some instruments for me. Using stop horn technology, one can almost play chromatic melodies, rather than, as before, be directed to only natural tones. Bark Horn has turned into a melody instrument. The instrument is in different keys.
Cow horns: – also a Swedish folk music instrument. Made by Bors Anders.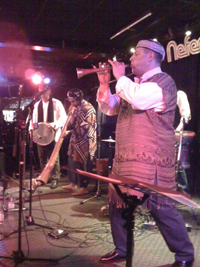 Zorna and Duduk with "Zebra Syndicate. One of the world music ensembles in which I blend in these instruments. The Sephardic Jewish cultural tradition has been affected, wherever there were Jews, influenced by the surrounding culture. Whether it was in North Africa or the Middle East. Zorna you will find all the way from Morocco to Tibet. Duduk occurs primarily in the Armenian music.
Shellfish is an old musical instruments from the Pacific island cultures. It turns out (today saws) the part where the worm started to grow. In this way it becomes a shell trumpet. It produces the tone, as the trumpet, by lip vibration propagates in the shell resonance. Even here you can get more than natural tones by stopping horn technology.
Kalimba, or African tum piano. Available in many varieties. I decide intonation by reducing or increasing the length of each rod. Acoustic or linked to FX ( delay, harmonizer ) www.kalimbamagic.com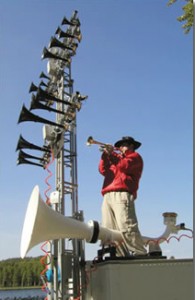 Typhoon Organ is custom design. It is controlled from a MIDI keyboard. A computer converts the MIDI signal to the control voltage. As controls the air vents on each of the 19 boat horn. The air from a compressor with 10 mil.b pressure and a tank of 200 liters. An instrument for major outdoor gigs,,,,the only one in the world.
Digital trumpet, or blow midi control unit, is a fantastic tool. I play everything I can play from a mother keyboard, plus some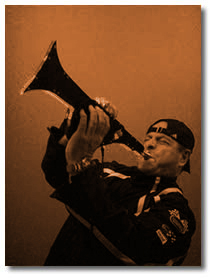 more. Blow sensitivity is easier for a trumpet player to control than a keyboard. Yet it is important and what makes the tool unique, how to use it in a musical way. To control a synthesizer with a bad synth sounds is completely useless. but to build presets in the computer and deleted from unique samples ( from Zorn and other oriental instruments) and playing
tunes interspersed with taking some specific commands to control loops and phrases, is a fantastic means of expression. Original name: MDT ( Morrisson Digital Trumet ) http://www.digitaltrumpet.com.au
Nowadays my standard electronic trumpet setup is:
A wireless (Zennheizer ew 100 system) Danish DPA condesor microphone and an electrostatically wire microphone from Rumberger I drilled into an extra tuning fork.
These two microphones I connect in simple two-channel sound card from TC or Roland.I almost exclusively use Mac / Abelton Live as "audio engine" and a bunch of VST plugs for effects. Then I have a standard Shure 58 to "R & R setup" to my floor pedals. (BOSS GT10, RC50 loop machine, etc. ..)
On the floor, I also have a foot controller for Guitar Rig (Rumberger microphone that is not as sensitive to feedback, I use to play the more distorted sounds through). Also, I use the iPhone and iPad as controllers for Ableton Live / Mac. (Nice to not have the mouse on dark scenes).
With a few exceptions handled all effects now as software. This means that today I can take my setup as hand luggage. But still the hardware pedals at outdoor gigs.
Gigs with typhoon organ is another story …