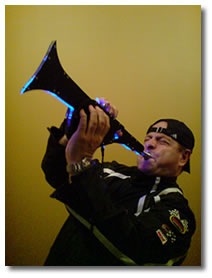 Salomon Helprin gives, separately and in conjunction
with artistic appearance, Master Class and workshops.
Lecture topics;
– Electronic trumpet – basic.
– Controlling soft presence-based FX via pith to midi converter.
A popular workshops are:
– Using Gustav Mahler's symphonic themes in a so-called "House-setup".
Classes with common trumpet concerts are not separate. ( Hayden )
(Apart from my own composed Trumpet Concerto op. 62.
Sheet music and orchestral backing track in advance to study
any part of the track. Teaser OPUS 62 )
The most requested lecture / workshop is;
– Contemporary trumpet playing on "acoustic trumpet"
   and midi trumpet with / without computer effects.
Contemporary trumpet gig – LIVE
Along with pantomin dancers Phax Ahamada I give even "double workshops," where we first have separate classes (danse / music) then we put together with the students together a performance.